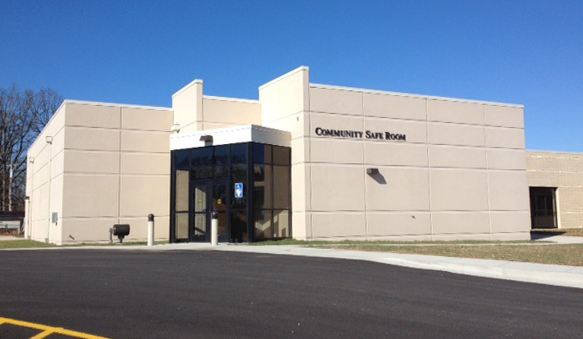 THE VISION FOR MEETING OUR FUTURE HEALTHCARE NEEDS
TCMH was the first Missouri hospital, large or small, to ever receive FEMA grant funds to assist with construction of an on-campus tornado safe room. The Tornado Safe Room / Community Room was completed in early 2015. Funds are continuing to be raised for completion of the new surgery area. The new surgery area is slated to be completed in 2018.

The new surgery department will:
Double the size of the department for two operating rooms and an outpatient surgery room
Incorporate the latest technology for operating room efficiency
Help recruit new physicians and ancillary staff and assist in retaining current physicians
Advanced 24/7 access to general surgery care
Provide 7 private pre- and post-surgery bays for patients and their family members

Particularly important for infant/parent bonding following C-sections

Have 6,091 square feet of climate-controlled space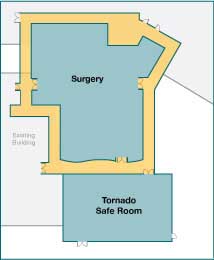 The FEMA approved tornado safe room:
Is capable of sustaining 250 MPH winds for 2 hours
Is able to provide shelter for 462 patients, staff members and community residents in severe weather
Enhances capacity for triage in case of mass casualty
Has a backup generator supplying power
Has 4,000 square feet of climate-controlled space utilized as waiting space in non-threatening weather times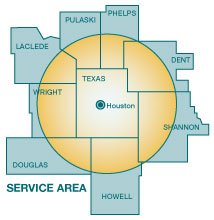 A Growing TCMH Service Area
66-bed hospital with ER, OB & ICU  that in 2010:
Served 36,851 Patients
Provided 40,685 TCMH Clinic, Hospice & Home Health Appointments
Saw 12,233 ER Patients
Made 3,853 Ambulance Calls Covering 221,869 Miles
Performed 1,525 Surgical Procedures
A Vital Part of the Local Economy
424 Full-time & Part-time employees
$15,975,636 Salaries & Benefits
$14,995,396 Federal & State Funds from Medicare & Medicaid
$6,013,269 in Uncompensated Care
$1,677,383 Payables in Texas County
15 Physicians Employed by TCMH
One primary care physician working in a rural area generates $1.2 million in annual revenue and creates 23 jobs.
Current plans will increase the hospital's size by 135%, creating more jobs and improving county infrastructure.
Do You Know?
TCMH does not receive tax support
Since 2004, TCMH has received $1.3 million in grant funding for equipment and training
TCMH has also received $19 million in zero or low-interest loans for capital improvements and building projects
TCMH has maximized loan opportunities for the institution
If you would like to be a part of this community effort, please contact the TCMH Healthcare Foundation.
Jay Gentry, Director
Phone: 417-967-1377
Email: jgentry@tcmh.org
1333 S. Sam Houston Blvd.
Houston, MO  65483